Hi Gals! So today we made all kinds of amazing things! I visited the cricut booth to make fabric flower pins - that is right they make a great little cartridge to cut FABRIC! So anyone who wants to tap into their creative element of hair accessories will have a cut-free, hassle-free experience! And there are all kinds of crafting How-Tos for their product. Check it out
here
.
Here is what we made at the booth - I, of course, took my own creative spin on this
Kevin, the PR at Starbucks from Creative Connection, and I chatted about doing a fun giveaway on here :) YIPEE~! They gave away a FREE pound of coffee - our choice on what we wanted - How stinking awesome is that?! I picked up the boldest bold they had - French Roast - Yum - Thank you Starbeezy for the power up! You are always there to get me going again!
I took the class from the owner of Whippy Cake! She has some amazing ideas on personal photostyling and has inspired me in so many new ways on personal styling and creating an amazing almost effortless outfit that reflects the real you! I have more to come on the class basics 101 for fun and easy tips and tricks I have learned and I also want to add a few that I believe are simple and wonderful for anyone to know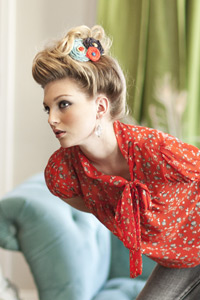 I also picked up some fun card making - which I have never attempted but was so fun - I don't know where it is right now because I have absolutely a TON of SWAG from this show. I also am going to post a giveaway for some of the amazing swag I have with me. I am so appreciative of you as my fans, customers and followers! Oh man - if you ever get the chance to come here it is TOTALLY worth it.

This is Emma Fl(h)air reporting from the hotel room where the The Creative Connection is taking place. You stay crafty Minneapolis :)